Jenny & Pat's wedding was the last one I booked before I went on maternity leave. So when we chatted, I was in my "get this baby out of me" stage. A bit cranky. A lot uncomfy. But I remember hanging up the phone after chatting with Jenny during our phone consultation and smiling. She had been so sweet and understanding, easy-going and had a great sense of humor.  And she had a great taste in color palettes as I learned that they are planning a wedding in the color scheme of Darbi G. AQUA AND RED, baby!!! hahaha
Our talk had cheered me up, reminding me of the exciting wedding season that was going to be waiting for me once I came back to work.
So of course I was beyond excited that she and Pat decided to book with me. We had to fit in their engagement session ASAP after I was back to work and it was my first engagement session of the year. And I was at home with them immediately. They brought along their playful, but well-behaved puppy Charlie for a few. He even remained on his best behavior when he was practically mauled with attention by 8 or so other dogs who had been running loose in the dog park at City Market. He was the "cool kid" on the block. And can't you tell why, with that dashing smile? 😉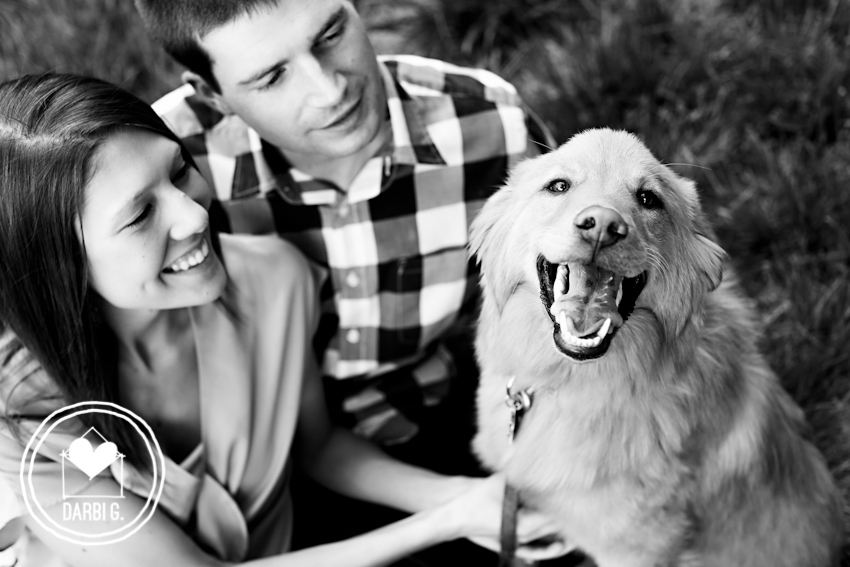 Most couples apologize profusely up front, saying that they are so awkward in front of the camera and they feel odd and so forth. Jenny & Pat were no different. They also were HUGE liars. It was clear within minutes that they had chemistry. Giggly-sarcastic-genuinely-fond-of-one-another type of chemistry. So enjoy these pics…and know their wedding is only a week and a half away. HOORAY!