So I am not too ashamed to admit that I totally had a crush on my bride and groom a few weeks ago. Kelsey & Nick. They are just so flipping gorgeous AND sweet AND fun AND gracious. Ali and I once again were in Topeka for their wedding day. Kelsey had been worrying about extreme heat, which of course is always a possibility—actually…a likelihood…for June weddings. But they lucked out because it was pretty cloudy all day long, and even rained a few times—during pictures! But this whole wedding party handled the moody weather changes with ease.
Kelsey is a nurse, which actually was to my benefit as when I met her and her mom last fall for a consultation, she was so completely understanding that I had to change the location of our meet up at the last minute because my son was sick with croup. So they came to my home, and with a toddler on my lap who was part out of it due to steroids, we chatted about the wedding they were planning.
The story of how Nick proposed is a good one! Here it is, in Kelsey's words:
I had just finished my first day of my graduate classes (after working Sunday, Monday, and Tuesday night 7p-7a in the ER). Needless to say, I was quite tired. Even so, I was finally able to spend a little time with Nick.  So we went out to eat with friends and then he asked me to fish with him behind my parents' house.  We had been fishing for 45 minutes or so when Nick asked me to get another lure out of his tackle box.  He has many tackle boxes, so when I finally opened the right one, I didn't recognize a ring box sitting in the middle.  I asked which one he wanted and he leaned over and said, "This one."  He picked up the ring box, got down on one knee, and the rest is history. 
Both Kelsey and Nick bleed athleticism. It's in their genes. Nick's dad was a high school football coach, and Kelsey's dad is still the head basketball coach at Washburn University  (he's the 25th winningest coach in college basketball history!!! And as an aside, I really don't think that WINNINGEST should be a word.) Kelsey is as tall as she is beautiful, but she chose a different court and a different school–she played volleyball for K State. Nick however followed in his father's area of expertise and was a 1st team All Big 12 offensive Tackle at Kansas State. He even was drafted by the NFL and played a short time, but injuries prohibited him from continuing.
Because of both of their families' ties to the Topeka community, they had lots of guests. Like…the most guests I've ever experienced at a wedding! And it was a beautiful one at that. From the romantic hues to the personal touches (check out what they threw instead of a bouquet or garter belt!!!), it was one to remember.
The ladies got ready at Kelsey's parents' house.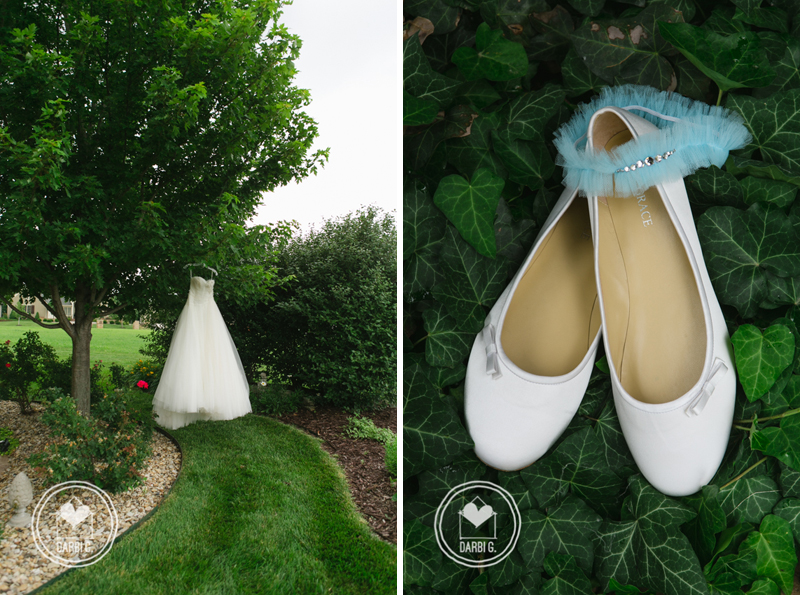 Is she just not a STUNNER? 🙂




The pic on the right is one of my faves from the day!


Her mom and dad got so emotional when they saw her for the first time. 


the guys got read in the locker room at Topeka Country Club so we were unable to get that covered…but we did score this! 😉  


Headed to the first glance! And how cute are the ladies watching it all up the pathway? As it drizzled! That's commitment! 😉








See why I had a crush on them? GOOD LOOKING TO THE Nth DEGREE!!!


















And of course they surround themselves with attractive friends as well. 


(The guys were SO goofy. I wish I could show you half of the pics we ended up with, but I think Nick might be the most bashful of the group and I don't want him to  hate me! HA HA!)






And then it was ceremony time.









We had some good laughs during the ceremony! 






Back to the country club for the reception. 
















I love that her tongue is out when she threw it. It takes fierce concentration to play volleyball…I mean…to throw one over your head to all the single ladies. 😉  


and of course, the kid caught the football. 😉



Speaking of kids!! Three more CUTE ones!


A lucky couple indeed…they had TWO cakes. And the fish one was made by Kelsey's cousin… it was phenomenal!!!


See?????


They really wanted to take some pics on the golf course before the sun went down, so we literally took these pics in 7 minutes. 🙂 So glad we did!
And of course, the one that Kelsey and Nick will get printed in a 16×20 and put it above their bed….  😉


Kelsey & Nick—I hope your wedding day was every bit of magical that you wanted it to be. You were both so amazing to work with and not just because you rocked the camera. Thanks for EVERYTHING!! And happy EVER AFTER!