I want to warn all… I am so not in the writing groove today, but I really really really want to share these pics with Lauren & Preston because I am in love with so many of them. So my apologies if I am not as eloquent as usual. Not that I'm very eloquent to begin with, but anyway…
Lauren & Preston are high school sweethearts (their love story is told in their engagement session post, if you want to read it!!) so being there to witness and document the day they took their long relationship to the next level was truly emotional. I am friends with Lauren's sister, and their family is no stranger to me. I've grown quite fond of all three sisters, as well as their parents and significant others! It was so exciting to be with them to celebrate such an occasion.
I am sure when L & P chose their wedding date, they were envisioning a day of blue sky, a slight breeze with that hint of chilliness that feels good in the sun, but maybe slightly cold in the shade. But what they got was a day that felt like the dead of summer. 101 degrees in mid September!! No clouds. Not a whole lot of wind. And TONS of sweat.
Luckily, sweat doesn't show much in photos…and instead, everyone looked like they were totally comfy in the high temps. Such great sports!!!
I think I have posted too many photos from this wedding. Somehow, the hottest weddings for me have yielded countless amazing memories. And after seeing these pics, tell me if you'd guess that Lauren has admitted time and again that weddings and planning just aren't her cup of tea. Her family pulled together for the event and it turned out to be so much fun, so beautiful and such a personal experience.
So please enjoy the images and my notes along the way!!
Peeper Ranch provided a great backdrop, complete with gorgeous horses who bayed and neighed from their stalls. One horse shared a name with Lauren's younger sister (Emily!!) and proved to be one with attitude. 😉 She scared us all a few times with her banging around in the stable. She's pictured below.


To be honest, these are two pics… though if they were one, that'd be awesome. 😉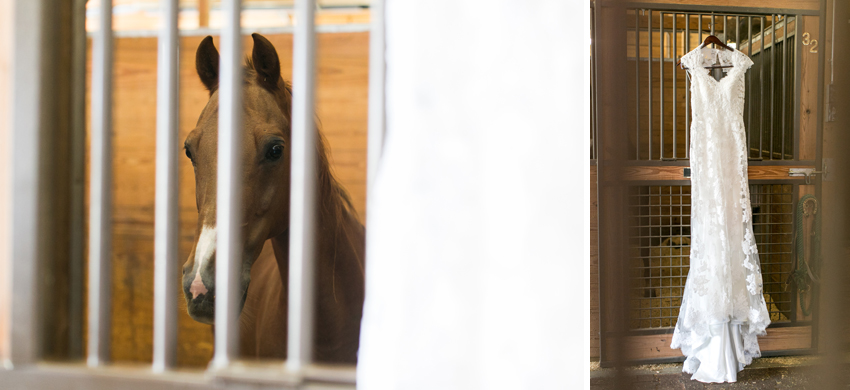 Lauren's mom made the bouquets. Pictured on the right is the tiny lil' dress that Lauren's niece, Reese, got to wear. Unfortunately, we didn't get many pics of her in the dress as she got sick and had to go home. 






Here's REESE!!! SQUEEZE!


So there might be way more prep pics than usual for the ladies. This is because I was in love with the getting-ready room. A simple room, with a great source of natural light. We turned off the lights overhead and I just loved it! I wish all prep rooms were as accommodating for good photography. haha
Also, her dress takes the wedding cake for my fave dress of the year (so far at least!) I just loved it. 














One of the CHILLEST groom party I've ever been around. So mellow at this point of the day! haha



does she not look like a cover girl? She look sooooo womanly, in the best way possible. But she's younger than me!!!! STUNNER AND A HALF.





A fave image of the day, for the sake of it being totally unplanned and innocent.






TWIN RING-BEARERS? Are you kidding me?? 






during the ceremony, the officiant read aloud letters each had written in the past (they've always written each other love notes over the years.) After he was finished, I couldn't tell if people's faces were covered in sweat or tears! I may or may not have shed several myself! 😉
Lovely ladies on both sides. So good looking!!!






On the right, that is Lauren, her two sisters, and her mom. How beautiful are they??? They all look like one another, yet different. 








Handsome lil' devils!!!






and Preston, one of the BEST smiles I've ever seen on a guy. Seriously. 


And now I introduce a series of pics that I'd like to call: HOLY GOOD GOSH!! THEY ARE TOO BEAUTIFUL TOGETHER!


(Lauren's only request for wedding pics was that she get some with yummy golden light. Lauren, I think we've nailed it! 😉 )














And the reception… lots of lil' handmade touches by Lauren and her family helpers. 






This was funny…Emily & Jaime gave Preston and lauren lil' gifts that would come in handy during their marriage. My fave was a sleep mask to remind PReston whom he's dealing with when he wakes up. 😉
Preston read a poem that literally had all us romantics crying all over again. Lauren, you're so lucky to have landed a MAN who is SWEET. SIGH. 








I highly enjoyed the selection of music the DJ (Dave Smith w/ Music 4 Memories) played, and the fact that he handed out sunglasses for guests to don while they danced the night away!!












Lauren & Preston, thank you once again!!! You might have sweat a lot on your wedding day, but you also loved a lot too. Everyone felt it and you might say that weddings aren't your thing, but that's okay…because you only need this one. And it was PERFECT!!!! xo